TORAYMYXIN™ is the only Polymyxin B Hemoperfusion therapy for endotoxin adsorption
TORAYMYXIN™ (PMX™) is an extracorporeal hemoperfusion cartridge designed to remove endotoxin in blood. TORAYMYXIN™ is indicated for patients with sepsis or septic shock caused by suspected Gram-negative bacterial infection or endotoxemia.
TORAYMYXIN™ is composed of polymyxin B-immobilized polystyrene derivative fibers. Polymyxin B is an antibiotic which is well known to bind endotoxin selectively.
Systemic use of polymyxin B is restricted due to nephrotoxicity and neurotoxicity. However, TORAYMYXIN™ selectively removes circulating endotoxin, because polymyxin B is covalently bonded to the fiber.
TORAYMYXIN™ was approved by the Japanese Ministry of Health and Welfare in 1993, and was listed in national health insurance in 1994. In the worldwide, TORAYMYXIN™ is launched in more than 10 countries since TORAYMYXIN™ acquired EC certificate in 1998. Until now, over 150,000 patients have been treated with TORAYMYXIN™ worldwide.
Structure of TORAYMYXIN™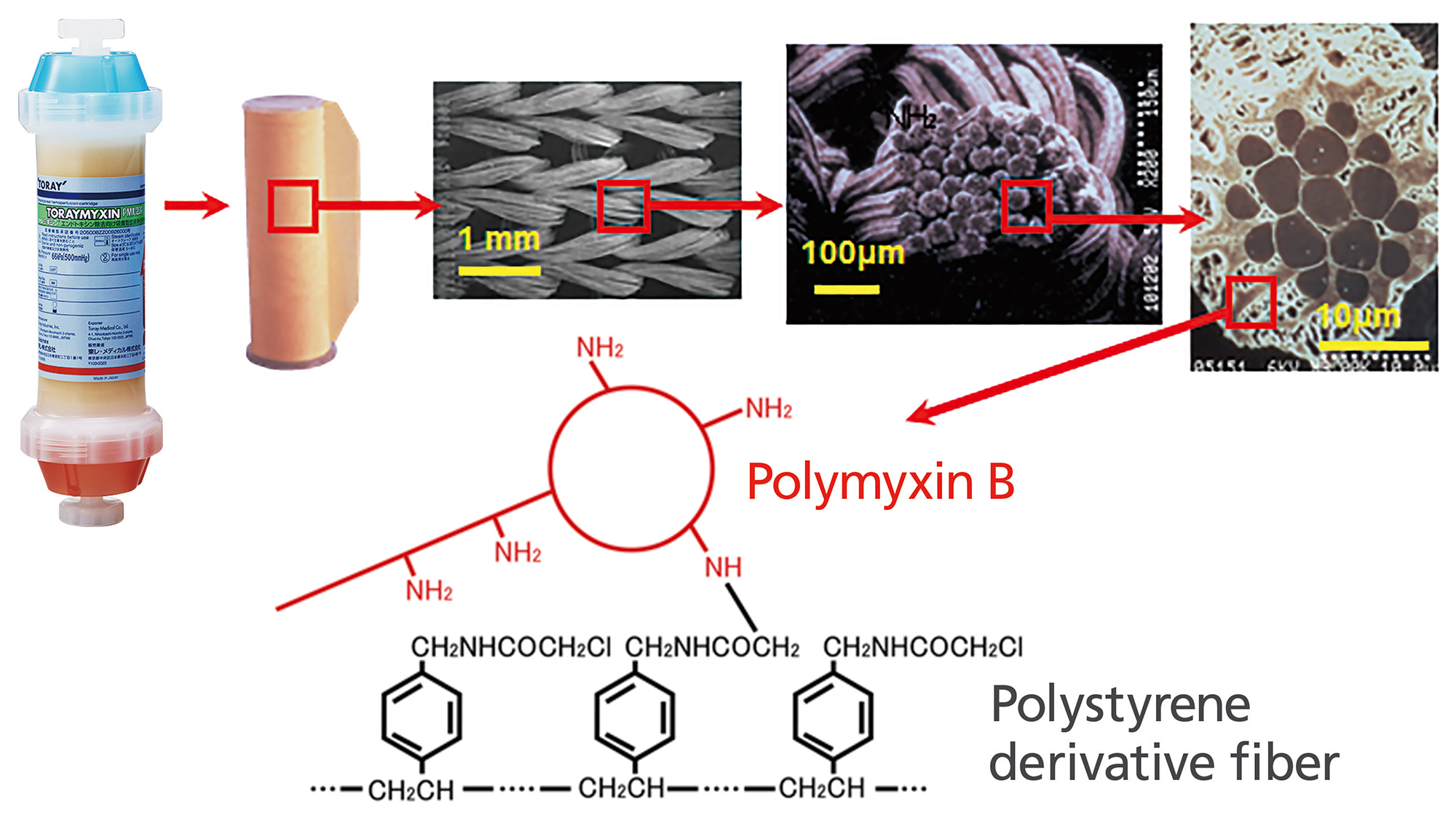 Specification
PMX-20R
PMX-05R
Length
225mm
133mm
Diameter (max)
63mm
55mm
Priming volume
135 ± 5mL
40 ± 3mL
Fibers (dry weight)
56 ± 3g
15 ± 2g
Inlet pressure
< 250mmHg
Maximum pressure
500mmHg
Sterilization
High-pressure steam sterilization
Expiration
2 years after sterilization
(Currently, PMX-05R is available only in CE marking countries and Japan.)
Indication
TORAYMYXIN™ is indicated for use in the treatment of patients with sepsis or septic shock caused by gram-negative bacteria, who meet the following conditions :
Endotoxemia or suspected gram-negative infection, and
Systemic Inflammatory Response Syndrome (SIRS), as defined by the presence of at least two of the following four conditions :

Fever or hypothermia (body temperature of above 38˚C or below 36˚C)
Tachycardia (heart rate of above 90 bpm)
Tachypnea [(respiratory rate of above 20 breaths/min, or PaCO2 below 4.3 kPa (32mmHg)]
White blood cell count of above 12,000 cells/mm3, below 4,000 cells/mm3 or above 10% immature (band) forms.

(Quoted from English Instruction For Use)
TORAYMYXIN™ requires simple procedure
TORAYMYXIN™ is a direct hemoperfusion (DHP) cartridge, and is compatible with standard hemodialysis machines or continuous renal replacement therapy (CRRT) machines.
The machine should have below specifications

Blood pump for extracorporeal circulation at a blood flow rate of 20 – 200 mL/min
Monitors for inlet (Pi) and outlet (Po) pressures
An infusion pump for the administration of anticoagulants
The patient blood is pumped through TORAYMYXIN™ and endotoxin in the blood is adsorbed to the cartridge. Then, the blood is returned to patient body.
Operating procedure
Read Instructions For Use carefully before use.

Rinse TORAYMYXIN™ cartridge with physiological saline.
Fill the cartridge and blood tubing with heparinized saline.
Insert a double lumen catheter with appropriate size into the patient through the femoral, the subclavian or the jugular vein.
Connect the blood tubing to the catheter, circulate the patient blood through the cartridge by using blood pump, and return the blood into the patient. Administer a proper dose of anticoagulants to avoid clotting.
After finishing the treatment, return the blood in the cartridge and tubing to the patient with a low flow rate by using physiological saline.
Below are the procedure conditions

[Rinsing] Physiological saline :

PMX-20R : at least 4 liters
PMX-05R : at least 2 liters

[Blood flow rate]

PMX-20R : 100 (80–120) mL/min
PMX-05R : 20-40 mL/min

[Duration of hemoperfusion]

2 hours

[Anticoagulants*]

PMX-20R : Heparin 3,000 U as bolus and 20 U/kg body weight/hr as continuous infusion
PMX-05R : Heparin 40-60 U/kg as bolus and 20 U/kg body weight/hr as continuous infusion

*These doses are general recommendation for adult patients. Adjust the dose depending on the body weight and the condition of the patient.
Procedure of TORAYMYXIN™ Treatment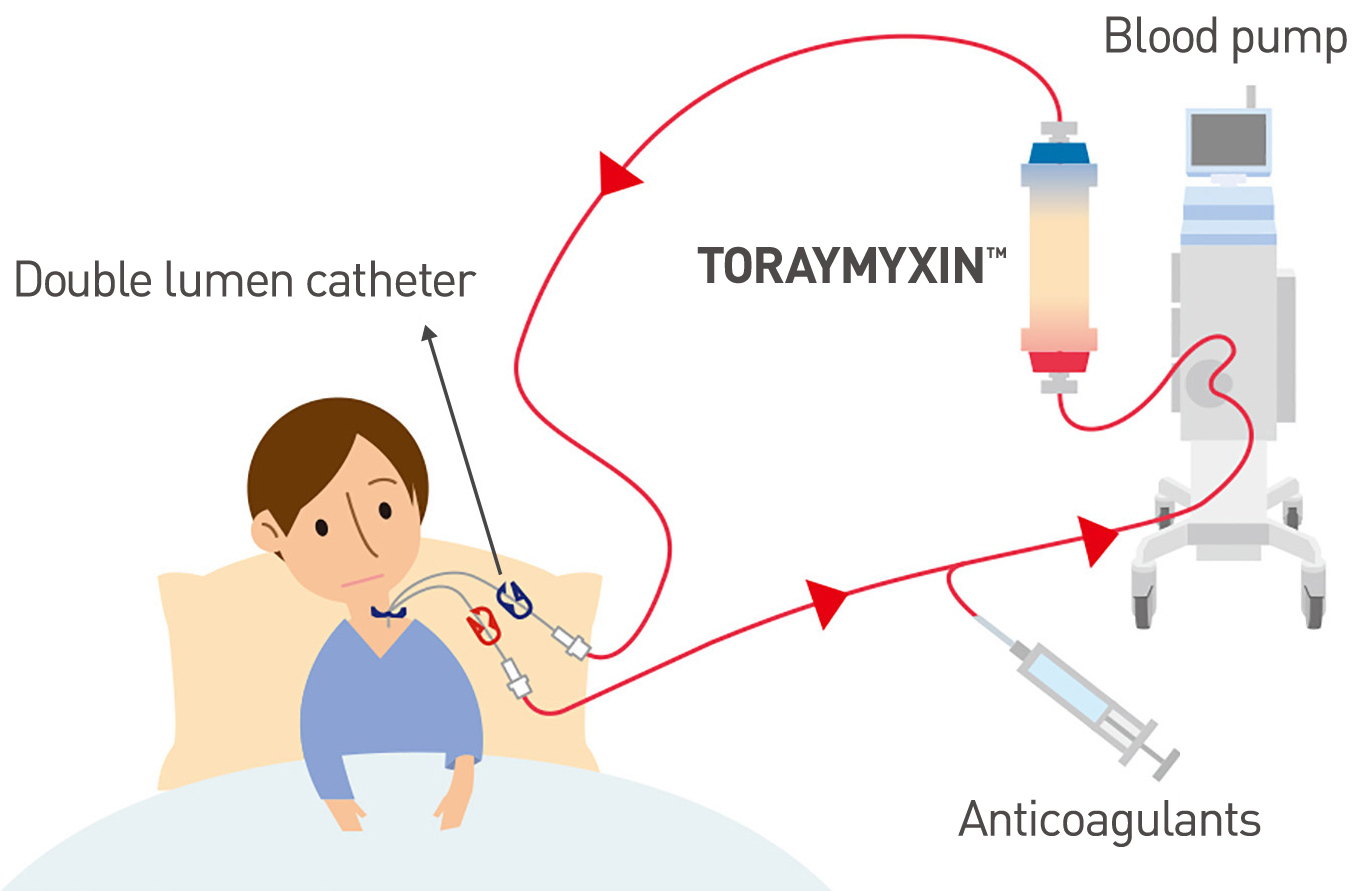 In vitro endotoxin adsorption capacity1)
in vitro Perfusion Experiment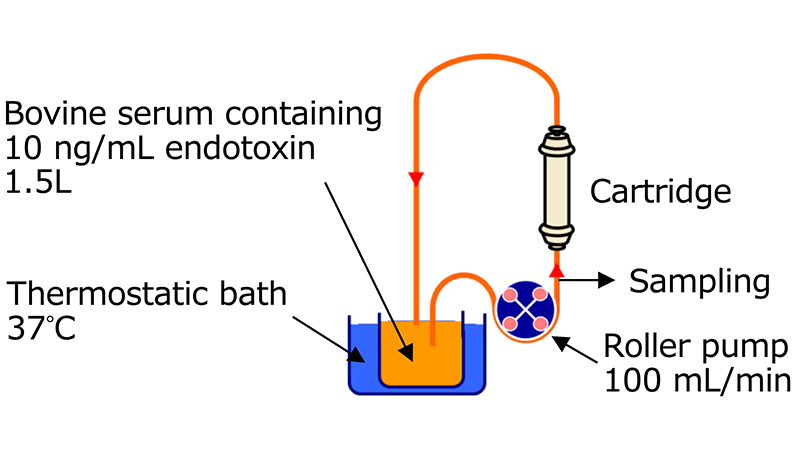 Change in endotoxin level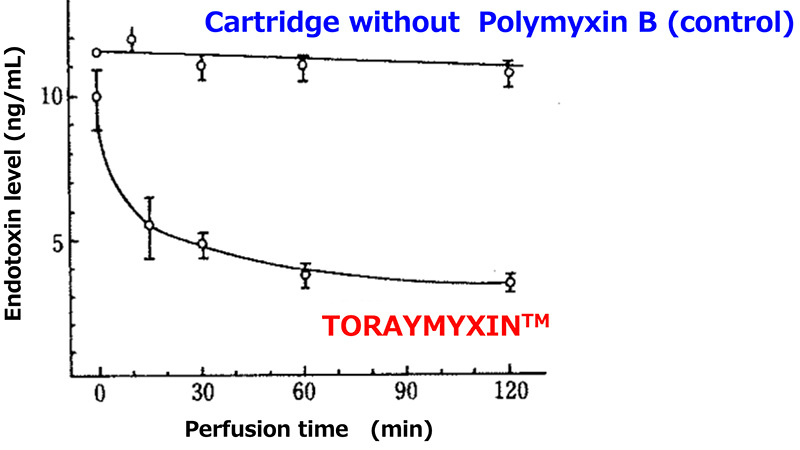 Clinical effects
Endotoxin is released by Gram-negative bacteria and causes fever, hypotension, hypoxia and organ dysfunction, as a consequence of a dysregulated host response. The aim of endotoxin removal therapy is to interfere with the inflammatory cascade and to improve blood pressure, tissue perfusion, blood oxygenation, and organ function. These clinical effects are expected to impact patient outcome1).
More than 300 publications report clinical effects of TORAYMYXIN™. The EUPHAS randomized controlled trial2) and a recent meta-analysis3) showed that TORAYMYXIN™ significantly improved hemodynamics and reduced the risk of organ dysfunction and 28-day mortality in patients with septic shock. Although a recent randomized double-blinded controlled trial conducted in North America (EUPHRATES Trial) did not show mortality difference between PMX group and control group, the mean arterial pressure and the ventilator-free days significantly increased in TORAYMYXIN™ group4). A post-hoc analysis of the EUPHRATES Trial suggests that there is a sub-group of patients who are more likely to respond to this therapy5).
Adverse reactions
Potential Adverse Events
The adverse events below may occur at any time during TORAYMYXIN™ treatment.
Type of Adverse Events
Thrombocytopenia, Decreased blood pressure, Allergy (Erythema, etc.),
Shock (Decreased blood pressure, Dyspnea, Tachycardia, Hypothermia, Chest pain, Vomiting, Cyanosis, etc),
Anaphylactic shock, Ventricular tachycardia, Ventricular fibrillation, Hypoxemia, Cardio palmus, Air embolism, Infection of entry site, Bleeding at puncture site, Abnormal bleeding (due to heparin), Tachycardia,
Increased pressure at the entrance of the blood purifier [This is attributable to the dosage and administration of anticoagulants and pathological conditions in patients.], Blood clotting in PMX [Blood clotting is attributable to the dosage and administration of anticoagulants and pathological conditions in patients.]
Patients with septic shock usually have severe underlying diseases, including, but not limited to cancer, trauma, and cardiovascular disease. These underlying diseases, deterioration in the patient's state of health and/or death due to the progression of sepsis may be reported as adverse events during or after PMX-DHP.
References
"Extracorporeal Endotoxin Removal For The Treatment of Sepsis : Endotoxin Adsorption Cartridge (Toraymyxin)" Shoji H Ther Apher Dial (2003) 7 : 108-14
"Early Use of Polymyxin B Hemoperfusion in Abdominal Septic Shock : The EUPHAS Randomized Controlled Trial" Payen DM et al. JAMA (2009) 301 : 2445-52
"Effects of Polymyxin B Hemoperfusion on Mortality in Patients With Severe Sepsis and Septic Shock : A Systemic Review, Meta-Analysis Update, and Disease Severity Subgroup Meta-Analysis" Chang T et al. Crit Care Med (2017) 45 : e858–64
"Effect of Targeted Polymyxin B Hemoperfusion on 28-Day Mortality in Patients With Septic Shock and Elevated Endotoxin Level : The EUPHRATES Randomized Clinical Trial" Dellinger RP et al. JAMA (2018) 320 : 1455-63
"Polymyxin B hemoperfusion in endotoxemic septic shock patients without extreme endotoxemia : a post hoc analysis of the EUPHRATES trial" Klein DJ et al. Intensive Care Med (2018) 44 : 2205-12